Theater is empowering at Camp!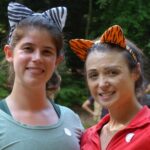 By Kelsey Pandiani
All week long, campers excitedly practice their scenes for the Camp play. Campers no only work on their lines, but also create their costumes and practice acting during their time at Theater. At the end of the week, they get up on stage with their friends and show off all their hard work! Theater has been an amazing addition to our Camp activities. It teaches our campers confidence, creativity, and teamwork and is popular with all ages. While it is fun to dress up for Theater, it is even better to watch as our campers become comfortable in their own skin by playing and performing together on stage. Our goal is that they take this lesson and bring it with them to life outside of Camp.
Tamarah and I are pictured here before the play (The Lion King) as we prepared to help our group of campers with their scenes. Tamarah and I met at Burn Camp when we were 13 years old. We became fast friends (literally overnight). During the week we did all of our activities together as if we had know each other for years. I can remember dressing up and getting on stage to act out goofy skits with her at my side. I love that we can now work together as counselors to help our campers have that same empowering Camp experience!