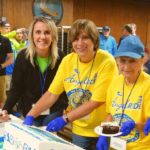 We would love to shine a spotlight on another of AngelRide's team leaders, who has also been involved with the Connecticut Burns Care Foundation, Inc. for many years. Carole, who recently retired from her position as a medical technologist, has volunteered to share her experience with the Coronavirus response.
"As a medical technologist in a public hospital laboratory for many years, I helped maintain the computer database that makes the connection between specimen collection to lab testing and results – ultimately delivering those results electronically to doctors and their patients in an accurate and timely fashion. With the very sudden appearance of COVID-19 and a large increase in the volume of testing, I felt it was important to step back in and help! I have been working with the lab at my hospital to create a method in our database to process and post results to providers. It's a process that is changing daily, as new testing facilities are needed and new tests are developed. I'm proud to be contributing in even a small way to help get us through this!"
Thank you, Carole, for all that you do and for sharing your story! Please #StaySafe as you continue your important work.