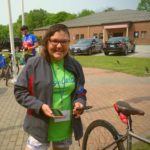 We are shining a spotlight on those in our community involved in the Coronavirus response, and who better to start with than the inspiration behind AngelRide herself- Angel! Angel is a survivor of childhood cancer, and her strength in her journey helped mold the mission of the ride – to ensure that children struggling with illness or trauma don't miss out on the chance to be a kid.
Today, Angel is still involved in AngelRide as one of the team leaders who helps throughout the year to plan the ride. She is also an RN at a cancer center, and shared her experience with us:
 "I help manage and infuse many people's cancer treatments. We are not on the front lines, but this is not an office that can be shut down. Our patients need their treatments. We have been doing everything we can to have 'business as usual' while keeping our patients and staff safe, including screening calls, no visitors, and wearing a mask all day. Our patients are so vulnerable, as they are all immunocompromised, and they look to us for calm advice and reassurance. I have to keep myself safe so I can keep them safe."
Thank you, Angel, for all that you do and for sharing your story! Please stay safe as you continue your important work.