As someone privileged to tour the camp while in session – there's a wonderful sort of magic happening there.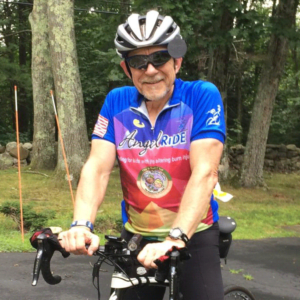 . . . Why I ride
By Dana Bean
AngelRide is a wonderful vortex.  It draws you in.
It draws you in, not because of the quality of the cycling experience itself, though in many years of riding, I've never been in an organized cycling event that is more enjoyable, in terms of the ride itself, or the support and professionalism with which it is executed..
It draws you in, not because of the enthusiasm, overwhelming kindness and willingness to help of all of the volunteers, though I've never seen their equal.
It draws you in, not because of the joy and familial atmosphere of the riders, nor from their easy going inclusiveness of all riders regardless of their skill or experience, though AngelRiders display this in overwhelming abundance.
It draws you in because AngelRide isn't about any of those things.  It has never been. Those things are all true, because the people who started AngelRide and who carry on it's mission are All About the Kids.  
AngelRide has existed for 17 years to help kids to BE kids.  Not victims. Not patients.
The money we raise as AngelRiders goes to help kids.  We do that by supporting The Arthur C. Luf Children's Burn Camp.  The camp itself is detailed in articles, websites and information available through links elsewhere on this site, by people far more qualified than I to explain it.  Please take the time to read and watch all you can.  
Let me tell you as someone privileged to tour the camp while in session – there's a wonderful sort of magic happening there. AngelRide has seen, through 17 years experience supporting camps for kids suffering life threatening conditions, and now with burned children – that an incredible sort of healing and growth takes place among kids when they are afforded a chance to BE kids in a safe place, surrounded by other kids, counselors, and staff who know firsthand through their own experience what a child who is so affected feels.  
The camp is run by volunteers.  They take personal vacation from their careers to be there for the kids, and some have done it for many, many years.  Many of the camp counselors were once campers themselves. They are a tight knit, close group. We are privileged to be able to help them in their mission.
AngelRide is helping to provide the camp with assistance to grow it's programs.  To provide for more kids, to improve or expand. To make it more available to help more kids.  Speaking for myself, the benefit I gain from knowing that my efforts in fundraising are contributing to such a cause and to the happiness, healing, and growth that go on there is tremendous, and hard to describe.
At last year's AngelRide –  at camp on the night before the ride, some of the "old hands" were all talking and joking before bed.  A long-time AngelRider (who is also the father of a camper, now a grown woman) said it so well that I wish I'd had a recorder, so that I weren't forced now to paraphrase.  He said, in effect that the ride – the actual "pedaling down the road" ride itself – is in no way what AngelRide is about. That well organized, well orchestrated, wonderful event is the reward that we as riders are given by a truly remarkable group of organizers and volunteers for the work we as riders must do to raise money to support the camp and its mission, because it really IS ALL ABOUT THE KIDS.   That's what the training, fundraising, volunteer preparation and logistics are all about – supporting the efforts to help the kids.  
And it is. 
As riders, we are in the confusing position of being cheered (CHEERED!!!) and thanked – profusely, sometimes (to me) embarrassingly so – by people (volunteers, parents of campers, and campers themselves), who have by far the more difficult job – either in terms of the herculean effort to put on the ride, or the even bigger task of being the child, parent, sibling or friend of the child/family –  affected by burns. Heck, the riders just have to ask some friends and family for a little dough to help a really great cause – that's not so hard, really. We get to ride our bikes which is no work at all (I did not say it isn't hard, just not work)
That is the vortex, the thing that pulls us into this swirling ride that is so challenging, so smile (and happy tear) inducing,  and ultimately, so very rewarding, that many of us have been coming back year after year to see our old friends and make new ones as we share with them the joy of helping to bring this experience to kids.
Grab your paddle, slip into the flow.  The water is fine!
Dana Bean
12th year AngelRider.